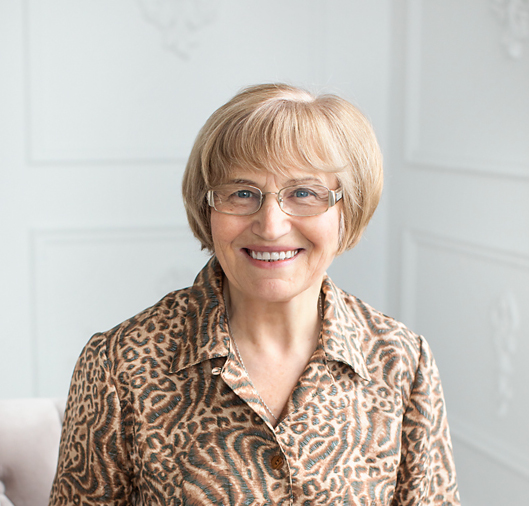 Dressmaker And Fashion Consultant From Toronto, Canada
Media have called Nina one of the best Toronto Dressmakers. She has creativity, supported by decades of experience in pattern making, and creating garments for all kinds of figures and all types of occasions. Nina's experience with modern fabrics, designs, brands is hard to match. Clients enjoy her fun, friendly, yet candid approach. They trust her expertise to make them look and feel their best in the clothes they wear.
Nina has been practicing in Toronto for 15 years and has over 25 years of experience making people look their best.
Some of Nina's highlights
Fashion design and dressmaking was Nina's hobby since she was a teenager.  However, her real occupation was … rocket science!  That's right, back in the Soviet Union days, Nina worked in Engineering R&D where Soviet rockets were designed and tested. She was creating unforgettable dresses and outfits  by night.
As an engineer she won awards.  As an amateur fashion designer not only did she win awards, but she was able to create patterns,  and bring her award-winning designs to life for her customers.
Her strength is what's scientifically called spatial cognition, and in simple language – a great ability to see, and build, things in 3D.  This ability of hers really helped to perfectly fit complex garments to the many figures of her customers.
No two women are alike, but everyone wants their dress to fit well.  There is a magic in turning a flat piece of fabric into a 3D garment that fits in a manner designed to accentuate only one's best features.
25 years ago, Nina left engineering behind, to become a full-time dressmaker.  Many of her customers have been thanking and following her since.
Nina works very efficiently, and this is why she is asking her clients to follow her simple process to get the best result. First, she will ask you to send her a picture, and description of what needs to be done. Then, she will tell you if this can be done, and give you approximate quote. Lastly, the quote will be refined in person during an appointment.
Nina will only ever give you her honest opinion and recommendations along all this process.
Nina consults ladies and men from around the globe. Her clients from US, Australia, France, and all over Canada connect with her via Skype to get help in shopping for the dream dress or suit.  She may not always be immediately popular with local shops, but with her guidance customers are taught what will work for their particular body type and needs, always leading to success for customers.
If you are in another country, Nina can give you a quote for a local dressmaker.
Please check out Nina's website, and send Nina an email to nina@perfectfitforyou.com, if you think she can help you with your garment.