Rolled hem is the way to finish  the edge of delicate fabrics.  Clients often ask what is it, and why the cost, so let me answer these questions and explain  what is involved in the process of applying new rolled hem to your dress.
Almost every formal dress nowadays – wedding, bridesmaid, prom, evening dress – is made of some delicate and sheer material like chiffon, silk, organza, tulle, soft satin, just to name a few. Finishing the edges of those fabrics is a tricky business that requires a lot of skill. Those fabrics crumble away quickly after cutting,   and the edge should be folded at least twice and sewn on the top of those folds by a special sewing machine that has a rolled hem option. The machine cuts all loose ends from the edge and performs a neat rolled hem stitch (see the picture.)
You get only one chance to apply rolled hem to yards and yards of delicate fabrics.  Because a knife is involved in the process of sewing,  any wrong move might spoil the hem making it uneven. Even with my decades of experience, I had practiced for several months on my new rolled hem machine before I was confident in my ability to do it properly and offer it to clients.
And even before it comes to stitching,   several steps are required for a successful finish:
You need to come for a fitting, and bring both your  dress and the shoes you will use with it
I mark the floor level of all layers of the skirt.     I NEVER cut even amount from the current rolled hem. In 99% of cases, the current  hem  looks  uneven on the client. Sometimes, this is because of factory error, other times it is because of differences in our curves in comparison with 'standard figure' this dress was made for.
I cut all layers in accordance with the rule – each inner layer is 1″ shorter than the upper layer.  Some clients ask, why the layers are not the same length. Making them the same is incorrect and will make the dress look funny.
I make sure that the client is comfortable walking, sitting and dancing in this dress, and the fitting is over. it usually takes 40 minutes.
I  do machine reinforcing of all cut seams so that they don't fall apart in the process of my applying the rolled hem.
 I  test the fabric, and adjust my machine to this particular fabric using the pieces I cut from the skirt.
I finish all layers with the rolled hem.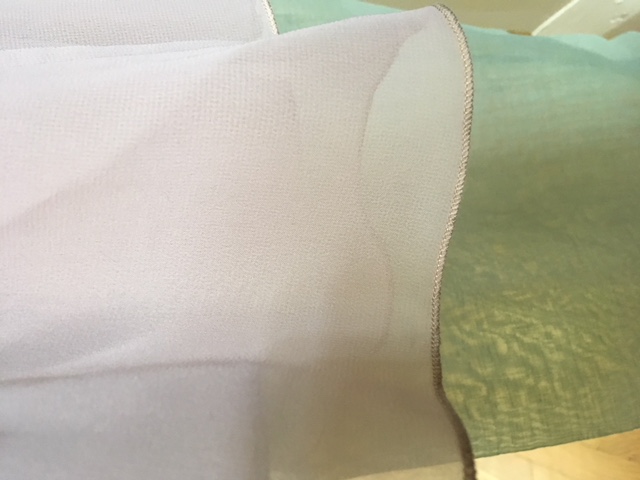 Price of Rolled Hem
Now that you've seen what's involved in creating that tiny ( but strong!), neat, playful finish of a hem, I hope you appreciate the amount or effort and high risk that a seamstress is taking to make your dress look right for you.
 It costs $20-30/yard to apply rolled hem. You can measure the length of your hem, and multiply by the number of layers, in order  to get a rough idea of the total cost.